ESN Card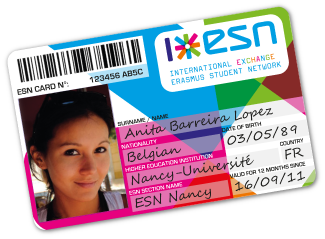 Purpose
The ESN Card is exclusively issued for exchange students by ESN International. The National and Local levels are offering different discounts with the card, like cheaper excursions, parties, travel offers etc. For us it acts as a proof that the student is here in exchange and therefore it ensures that only those benefit from our services.
Availability
Only exchange students (and students with a Swiss Government scholarship issued by CRUS) who study at the ETH, the University of Zurich, ZHDK or PHZH are entitled to buy the ESN card as its discounts are mostly enabled by the financial support of these institutions.
Price
Validity
One Year from the date of purchase.
Sale
Discounts in Zürich
on all our events

KuBaA

(Kulturbahnhof Affoltern). Join all events (concerts, theatre plays etc.) for the reduced member price.
Pub Sponsors
IMPORTANT: to get the discount you have to show your ESN card BEFORE you order!
At most International Pubs there will be a special with ESN-card
International discounts
Disclaimer
ESN Zürich is not responsible for these offers. The offers can change without further notice.